Photoshop Training Courses...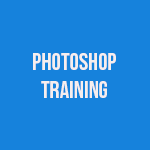 We run both onsite Photoshop Training Courses held at your premises or live online Photoshop Training sessions held with a instructor. The courses run at all levels from introduction through to Advanced plus our flexible private tailored Photoshop Training which can be customised to your business objectives.
Choose content from our range of Photoshop Courses and learn how to recolour, retouch, create animated GIFs and edit video for print, web or social media output.
Our courses are also available as virtual online Photoshop Training held with a live tutor in video conferencing software of your choice including Zoom, Google, Teams & Webex
Just get in touch with us to discuss dates and availability in your area.
Onsite Photoshop Training...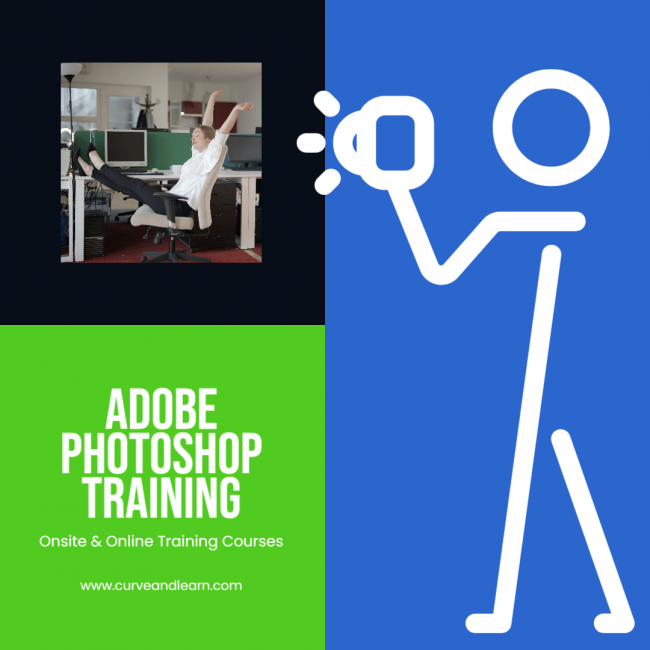 Held onsite across the UK our Photoshop Courses show you how to work with your photography for output to to print, social media and web.
We offer Photoshop Training that is flexible and works around your training objectives.
It is desigened for private individuals and company groups held on your premises acoss the UK.
We deliver Ado
We travel across the UK delivering onsite Photoshop Courses directly to you at times and dates to suit your schedule.
Shown below are the course overviews from three of our popular Photoshop Training Courses, Introduction, Intermediate and Advanced but please get in touch to discuss our tailored options.
Virtual Online Photoshop Introduction Training...
Our virtual online Photoshop Training sessions cover the same content and format as our onsite ones. You can opt to follow our Photoshop Introduction Course content or have the training tailored to your own business objectives.
Our online Photoshop Training sessions are delivered via Zoom, Teams, Google Hangouts and WebEx - the choice is up to you.
The training is hosted by a live instructor in a virtual classroom environment where you share screens, chat and interact with each other in much the same way as in a traditional classroom.
Adobe Photoshop Course Content...
Photoshop Introduction Course Content...
Photoshop Introduction
Photoshop Repairing and Replacing Images

Photoshop Interface
Control Bar /Properties Panel
Photoshop Panels
Photoshop Techniques

Clone Tool
Healing Brush
Red Eye
Patch Tool
Context Aware Tool

Image Menu
Image Size
Image Resolution
Image Mode /RGB /CMYK
Image Rotation

Photoshop Edit Tools
Transform /Transformations
Crop /Delete /Content Aware
Applying Fills & Strokes

Photoshop Adjustment Layers
Photoshop Layers

Levels Adjustment
Hue & Saturation Adjustment
Black & White Adjustment
Working with Adjustments
Isolatiing Adjustments

Creating /Editing /Moving /Shuffling Layers
Linking /Unlinking Layers
Merging Layers /Flattening Layers
Modes /Opacity

Photoshop Neural Filters
Photoshop Adjustment Layers

Skin Smoothing
Colourise
Smart Portrait
Colour Transfer
Makeup Transfer

Levels Adjustment Layer
Hue & Saturation Adjustment Layer
Black & White Adjustment Layer
Curves Adjustment Layer
Merging Adjustment Layers

Photoshop Selections
Photoshop Quick Select /Object Selection

Lasso Tools /Feathering
Magic Wand /Tolerance
Expanding /Reducing Selections
Modifying /Transforming Selections
Adding Textures and Edge Effects
Drop Shadows and Blending

Quick Select Tool /Select Subject /Select Background
Select & Mask
Object Selection Tool
Object Finder
Mask All Objects
Select & Mask Workspace

Photoshop Brushes
Photoshop Pen

Working with Brushes
Brush Texture /s /Sizing
Creating /Adding Brushes
Adapting Brushes & Strokes

Bitmaps & Vectors
Working with Pen for Selections
Working with Pen to create Vector Shapes
Custom Vector Shapes

Photoshop Selection & Selection Techniques
Photoshop Colour

Lasso, Magnetic Lasso, Magic Wand,
Feathering Selections
Expanding / Reducing Selections
Modifying / Transforming Selections
Quick Masks
Save / Load a Selection

Colour Palettes
Colour Models, CMYK, RGB, LAB
Gradients, creating & editing
Mixing & matching Colour
Pantones & Spot Colours
Colour Profiles

Photoshop Masks
Photoshop Layer Masks

Quick Masks
Quick Mask Mode
Creating Accurate Masks
Adding to & Removing from a Mask

Create Layer Masks
Add /Remove to Layer Mask
Work with Blends /Opacity
Decorative Brushes /Decorative Patterns

Photoshop Type
Photoshop Printing & Colour Output

Creating Type
Editing Type
Type Masks
Type & FX Effects
Shaping Type

Understanding the principles of print
Print Output Explained
.PDF Export
Save for Web
File Formats Tiff/ JPEG/ PSD/ PDF
Photoshop Intermediate Course Overview...
Photoshop Adjustment Layers
Photoshop Advanced Selection Techniques

None Destructive Workflow
Colour Correction - Tonal Correction
Info Panel
Colour Sampling - Fixed
Levels & Curves
Working with Black & White

Working with Pen / Paths Tool
Paths Panel /Panel Options
Creating Path Selections
Fill /Stoke Options
Select /Direct Selections Tools

Photoshop Smart Objects
Photoshop Brushes

Working with Smart Objects
Roundtripping with Smart Objects
Smart Objects - Converting Layers
Linking & Embedding Smart Objects
Smart Objects Advantges

Creating New Brush Tips
Understanding Photoshop Brushes
Designing Floral, Wet Edge, Grunge Brushes
Photoshop Brushes & Colour
Creating, Editing & Saving Brushes

Photoshop Patterns
Photoshop Layer Masks

Creating Patterns in Photoshop
Defining Patterns for Pattern Stamp
Applying Patterns Using FX
Creating Repeat Patterns
Using Offset Repeats
Adding Patterns to Path Fills

Understanding Masks
Working with Brushes
Editing Mask Properties
Mask Modes
Layer Masks & Creative Flow
Work with Clipping Masks

Photoshop Retouching
Photoshop Advanced Layers

Extending Canvas with Content Scale
Vanishing Point Filters
Content Aware
Perspective Retouch
Image Adjustments

Using Auto Align
Layer Blending Mode
Searching Layers by Filter
Linking /Unlinking Layers
Layers & FX

Photoshop Selective Corrections
Photoshop Video Editing

Camera RAW
Adjustment Layer Masks
Adjustment Controls
Exposure & Colour
Saturation & Vibrance
Cropping & Straightening
Sharpening

Importing Video
Working with Photoshop Timeline
Frames / Editing Frames with Photoshop Effects
Video Layers
Frame Mode Control
Timeline Mode Control
Timeline Duration & Frame Rates

Print and Web Output
Photoshop Roundtripping

Print Dialogue Options
Web Galleries using Bridge
Save for Web & Devices
Slice a Web Layout using Layer Slices & Slice Tool
Export for Multi-Document PDF's

Placing Photoshop files in DTP software
Editing Photoshop Files
Working Across the Creative Cloud
Cloud Based Files
Photoshop Advanced Training Course...
Photoshop Advanced Environment
Creating /editing Tool Preferences
Keyboard Shortcuts
Actions
Recording Actions
Batch Processing
Working with Batch Processes

Photoshop Advanced Painting & Retouching
Refine Edges
Mixer brush
The 'calculations' command
Smart Filters
Liquify
Lighting effects

Perspective Cloning
Vanishing Point - Creating & Editing
Perspective Grids
Perspective Grid Clone
Perspective Grid Pasting
Grids - Paths or Lines?

Photoshop Advanced Blending
Working with Brushes
Adjusting Brushes
Adding Colour & Opacity
Blending Techniques
Blending Filters
Smooth Colour Transistion

Photoshop Advanced Layer Composition
Layer Composition
Working with Layer Compositions
Exporting Layer Compositions
(Layer Comps to other files)
(Layer Comps to PDF Presentations)

Photoshop Smart Effects
Use Repousse to Create 3D from Smart Filters
Smart Filters
Filters Smart Effects
Layer Masking for Dramatic Effect
Layer Styles, Create Plastic, Steel Textures
Work with Texture & Patterns
Fill, Opacity & Advanced Blending
Onsite Photoshop Training in the Midlands, Derby, Nottingham, Leicester
If you don't see your location below please get in touch because we run Adobe and Photoshop Training Courses across the UK.
Creative Cloud Photoshop Training
Nottingham, Derby, Newark, Oxford, Birmingham, Cheltenham, Gloucestershire, Cotswolds

Photoshop Introduction Courses in Birmingham, Sheffield, Leeds, York, Yorkshire, Stoke on Trent, Staffordshire, Dudley & Smethwick , Northampton and Northamptonshire Northant, Bedford, Bedfordshire, Milton Keynes, Buckinghamshire, Newmarket Ipswich and Suffolk, Stowmarket, Luton, Wellingborough,
Photoshop Introduction Training Course in Derby and Derbyshire, Bournemouth, Southampton & South Coast, Onsite Photoshop Training in Warwickshire, Warwick, Sheffield, Leicester, Nottingham, Derby, Midlands, Lincoln, Shropshire, Shrewsbury, Telford, Oswestry, Gloucestershire, Cheltenham, Gloucester, Tewksbury Sheffield Leeds , Cheshire, East Mids
Cambridge and Cambridgeshire Oxfordshire, Oxford, Walsall, Wolverhampton and West Midlands, Birmingham, Dudley, Wolverhampton, Burton on Trent, Stoke on Trent, Staffs ,Stafford and Staffordshire Leicestershire, Leicester, Coalville, Loughborough, Hinckley, Ashby, Northamptonshire, Northampton, Peterborough, Corby, Kettering, Nottinghamshire, Warwickshire, Coventry, Nuneaton, Bedworth, Warwick, Leamington, Stratford on Avon, Onsite Photoshop Cotswolds, Lancashire and Liverpool
Photoshop Elements Courses...
Gloucestershire, Gloucester, Cheltenham, Stroud, Warwickshire, Coventry, Coventry, Stratford on Avon, Bedworth, Derbyshire, Derby, Macclesfield, Nottingham, Lincoln, Oxford, Oxfordshire Leeds, Sheffield and Yorkshire, Worcester and Worcestershire, Burton on Trent, Staffs, Onsite Photoshop Elements Training,
Photoshop Web Graphics Courses...
York, Harrogate, Huddersfield, Yorkshire, Cambridge, Ely, East Anglia, Leicester, Coalville, Loughborough, Leicestershire, Birmingham and West Midlands, Warwickshire, Coventry, Nuneaton
Photoshop Advanced Training...
Chesterfield, Swadlincote, Repton, Photoshop Training in Leicester City, Intermediate Training Lincolnshire,
Lightroom Training Courses...
Burton on Trent, Midlands Lightroom, Adobe Lightroom Training,
Photoshop Courses Overview...
Photoshop CC Training...
Photoshop CC Training is availalbe in all versions of Creative Suite & Creative Cloud up to the latest version of Creative Cloud.
Adobe MasterClass...
Learn Photoshop, InDesign & Illustrator on our 5 day Adobe MasterClass. As well as covering the three pieces of software individually this Creative Cloud MasterClass also shows how they work together to create powerful print /digital publishing.
Adobe MasterClass /InDesign/Photoshop/InDesign Combo...
If you would like furher information about the Adobe MasterClass or the Photoshop Courses use our quick contact form below for a fast response...
Features from the Photoshop Intro Course...
Photoshop Tools & Interface...
Photoshop Retouching...
Photoshop Camera RAW...
Converting to Black & White in Photoshop...
None Destructive Workflow...
Layers...
Photoshop Sharpening...
Photoshop Intemediate Course...
Work effectively with Adjustment Layers...
Use Advanced Selection Methods...
Use Smart Objects...
Create & Design Brushes...
Photoshop Patterns...
Layer Masking...
Selective Colour Correction...
Photoshop Video Editing...
Print & Web Output...
Few of the features you'll cover on the Photoshop Advanced Training...
Photoshop Advanced Painting & Retouching Tools...
Perspective Cloning...
Photoshop Advanced Blending...
Photoshop Advanced Layer Composition...
Photoshop Advanced Image Adjustments...
Photoshop & HDR Photography...
Photoshop Colour Management...