Adobe InDesign Introduction Courses...
InDesign Introduction Course...
This Adobe InDesign Introduction course is designed for beginners or those with minimal knowledge. It is delivered virtually as Online InDesign Training with a live instructor or onsite at your premises. The course covers the tools and techniques needed to create and design a range of documents. It is run for both private individuals or company groups UK wide.
Our Online InDesign Introduction Course can be run in video confernencing software of your choice including Zoom, Teams, Google & Webex.
Adobe InDesign Introduction Course Overview...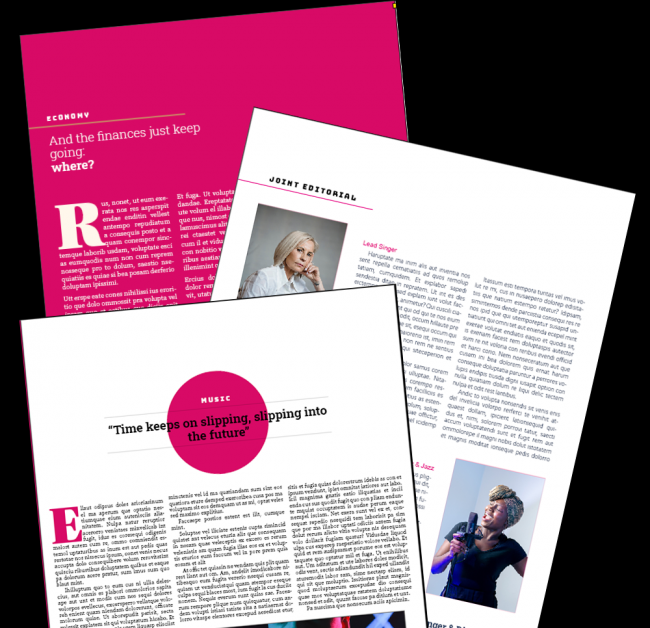 The Adobe InDesign Introduction Course Overview can be viewed below but we specialise in tailoring training to suit our delegates. Please get in touch to find out how we can customise your InDesign Training Course.
On the course you learn how to create and design multiple types of spreads including corporate literature such as finance reports, tenders and more marketing led materials such a handouts, flyers, POS literature, magazines and so forth.
You are welcome to bring your own images, logos and files to add a more banded approach to your course.
We also provide Interactive Adobe InDesign Courses for ebook publishing & interactive design for digital design. Our InDesign Interactive Courses show you how to use the software to produce online content and purpose it out as interactive PDF's or to design for ePublishing.
InDesign Introduction Course Outline
Getting started with InDesign
Creating and Saving a document
New Document Setup
Editing Existing Document
Tools / Window Menu /Panels
Control Bar /Properties Panel
Document Navigation

InDesign & Basic Images
Placing Images
Editing Images
Working with Graphic Frames
Moving /Positioning /Rotating Images
Image File Formats
Image Views

InDesign & Interactive Panel
Create Interactive Documents
Add Hyperlinks /Buttons
Create Mini Image Slide Show (Multi-state)
Export to PDF Print
Export to PDF Interactive

Colour Panels
Working with Colour /Colour Modes
Colour Swatches /Gradient Swatches
Changing / Matching Colour
Understanding Colour
Pantones /RGB /CMYK /Hex

InDesign Smart Layout
Grids & Guides
Smart Guides
Align & Distribute Objects
Rulers (Zero Point),

InDesign Text Frames




Formatting Text Frames




Text Frame Properties




Text Frame /Columns /Gutters /Grids

Typography




Placing External Text (Word, RTF)




Paragraph & Character Formatting


Typography & Layout
Tracking /Leading /Kerning
Text & Baseline Grids

InDesign - Fitting Images
Frame Fitting
Frame Fitting Options
Auto Fitting images
Scaling Content to Fit Frame
Scaling Frame to Fit Content

Type & Images
Working with Text & Images
Working with Text Wrap
Clipping Paths
Removing Backgrounds for Text Wrap
Text Insets

Printing




Preview




Preflight & Package




Export (print) to .PDF

Individual InDesign Tuition
£300.00 per person - plus travel

InDesign Tuition for Groups
£275.00 for first person then £75.00 for each individual plus travel
InDesign Courses...
InDesign Courses...
InDesign Info...
InDesign Advanced Course...
InDesign Interactive Course...
InDesign ePublishing Course...