Adobe Illustrator Introduction Course...
Adobe Illustrator Introduction Course...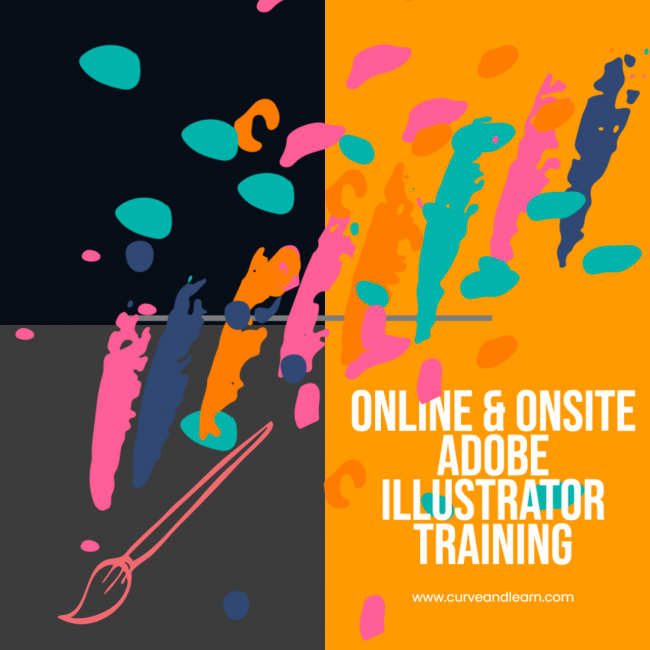 Enter the world of vector graphics on this Adobe Illustrator Introduction Course. Perfect for beginners this Adobe Illustrator course shows you how to produce stunning vector artwork for digital & print publishing.
Learn how to create vector artwork from scratch or breakdown and edit existing art files.
Learn how create, design and output quality, professional artwork using Illustrator's tools and techniques. This Onsite Illustrator Introduction Course can be hosted across the Midlands and UK wide.
This is a two day Adobe Illustrator Training Course designed to give you the skills to produce professional artwork for print publications, digital media and your social channels.
Adobe Illustrator Course Information...
Our Adobe Illustrator Training Courses are delivered onsite on your premises but we also offer online Illustrator Training Sessions. These are available as one to one sessions or company groups.
We specialise in Tailored Illustrator Training and can adapt contentt when required. Just get in touch with us to discuss your options.
Online Adobe Illustrator Training Course...
Our online Illustrator Training sessions cover the same content as the onsite ones and are fully customisable. These are run with a live instructor in We deliver these in various conferencing software including Zoom, Teams, WebEx and Google. These are virtual Illustrator Training Sessions and you will have contact with your trainer at all times during your course.
Adobe Illustrator Course Duration...
This Adobe Illustrator Introduction Course runs for two days for individual or small group sessions depending on tailored content.
Illustrator Introduction Course Content...
You will get a firm grip of the basics of the software and more by learning to work by creating new artwork or editing existing images. You will explore Illustrators Tools to create geometrics, logos and edit and repurpose exisiting images.Learn the tools and techniques in Illustrator to get to grip with the software quickly and effectively.
On this course you will create artwork, design logos, build infographics, edit existing artwork using tools such as Trace and understand colour & shading techniques. Design your own infographic incuding Illustrator graphs, colours and text
If you need to cover specific content or techniques on your course get in touch to discuss how we can build a Tailored Illustrator Training Course for you.
Meet Adobe Illustrator
Tool Panel & Tools
Panels Overview
Control /Properties
Illustrator Views
Working with Preferences

Adobe Illustrator Drawing Tools
Bezier Pen
Adding /Removing Anchor Points
Joining / Cutting Paths
Knife /Scissors /Shape /Eraser /Smooth
Pen Drawing Techniques
Curves & Angled Corners

Adobe Illustrator Selection Tools
Selection Tool
Direct Selection Tool
Adding to /Removing from Selections
Select & Edit Paths
Lasso Selection Tool
Add /Remove to Lasso Selection Tool
The Select Menu

Adobe Illustrator Colour
Colour Palettes
Process /Spot /Global Colours /Pantones
Swatches Panels
Adding /Editing /Deleting Swatches
Eyedropper, Paintbucket
Working with Fills & Strokes
The Three Gradient Tools

Adobe Illustrator Type Tool
Creating /Editing Type
Typeface Attributes /Tracking /Leading /Kerning
Type on a Path
Type Path Options
Outline Type
Type Area Tool
Frame Options

Adobe Illustrator Shapes
Elliptic, Poly, Spiral, Rectangle Tools
Geometric Shapes
Reshaping / Resizing
Transform Tool /Scale /Reflect /Shear /Rotate
Pathfinder Palette
Shear /Scale Tool

Adobe Illustrator Drawing Tools
Working with Brushes
Editing Existing Brushes
Creating New Brush Tips
(Art Brush, Calligraphic Brush & Pattern Brush)

Adobe Illustrator Symbols Panel
Symbols Panel
Working with the Symbol Tool
Editing Symbols
Creating Symbols

Adobe Illustrator Tools
Grids /Guides
Rulers
Stacking Order
Grouping /Ungrouping
Align & Distribute

Adobe Illustrator Images
Importing & Placing Images
Matching Image Colour
Linking /Embedding Images
Working with Links Palette
Basic Image Tracing

Adobe Illustrator Trace
Using Trace
Image Trace Options
Image Trace Panel
Expand
Working with Tracing Paths
Add Colour, Pattern & Gradient Fills to Traced Paths

Adobe Illustrator Print & Export
Print Options
Understanding Print Jobs
Print to .PDF
Print to Professional Bureau
Troubleshoot Print Issues
Adobe Illustrator Courses...
Our Illustrator Training Courses are held across the North, Midlands, East Anglia including Yorkshire, Derbyshire, Nottinghamshire, Leicestershire, Lincolnshire, Northamptonshire, Cambridgeshire, Oxfordshire, Gloucestershire, Cheshire and just about everywhere else