Ilustrator Course for Digital Art...
Illustrator Course for Digital Art...
This Illustrator Course introduces the tools and specialist techniques used to produce digital artwork. The course shows how how to import artwork such as line art and scanned drawings including manga art, cartoon characters or design type. This is very much a hands on Illustrator Training Course which gives lots of practise including working with digital ink, specialised colour and shading techiques.
Once the artwork is onscreen use Adobe Illustrators tools to add texture, depth, patterns and shading to create and develop unique and impressive imagery. You will be working with cartoon line art, importing & working from complex images during the course.
Illustrator Course for Digital Art Locations...
The Illustrator Course is held onsite in locations including Cheshire, Macclesfield, Manchester, Liverpool, Bolton, Birmingham, Shrewsbury, York, Ripon
Illustrator Course for Digital Art Duration...
This course is held across two days.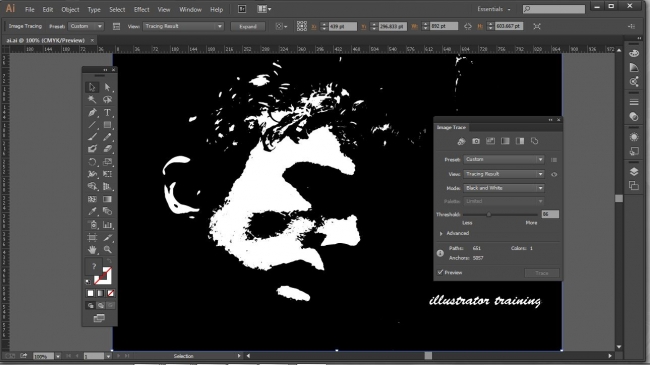 Illustrator Course for Digital Art Content...
Illustrator Fundamentals
Selection Tools
Advanced Selection Techniques
Artboard /s Setup
Transformation & Arrange Tools
Grouping /UnGrouping, Locking /Unlocking

Image Trace
Importing Line Art
Importing Photos
Image Trace Options
Converting /Expanding to Paths
Understanding Path Settings

Illustrator Brushes
Working with Default Brushes
Creating Brush Tips
Brushes and Filter
Blob Brush Tool
Pattern /Calligraphic /Scatter /Art Brushes

Gradients for Shading
Creating a Gradient
Editing a Gradient
Effective Use of Gradients
Gradient Spectrum
Gradient Shading / Angles

Pen Tool
Work with Pen
Draw & Edit Paths
Manipulate Anchor Points, Add, Edit, Smooth, Curve, Simplfy, Average, Join
Use Pen to Fill & Stroke

Colour Palette & Colour Guide
Colour Guide for Skin Tones, Warm & Cold Shading etc
Work with Default Colour
Edit Colour
RGB /CMYK Colour Panels
Colour Practicalities

Live Paint
Live Paint Bucket
Live Paint Groups
Using Live Paint & Image Trace together
Gap Options

Path Editing Tools
Eraser
Scissors
Knife
Path Selection

Line Art
Import External or Scanned Image into Illustrator
Use Image Trace to Work with Imported Image
Create, Edit Artwork Paths
Use Gradients & Colour to Enhance the Image

Colouring the Imported Line Art
Add Colour Guide Shades for Skin Tones
Shade and Tone Hair
Add Shape & Depth to the Line Art
Export in an Alternative Format

Patterns
Create Patterns
Edit Patterns
Pattern Options
Grid, Brick & Hex by Row & Column
Tiling & Tile Edging

Blends
Create /Release Blends
Reverse Blends
Specified Steps /Smooth Colour/Specified Distance
Expand
Blend Options
Effective Blending

Illustrator Layers
Creating /Editing Layers
Show /Hide Layers
Locking & Unlocking Layers
Examples of using Layers

Illustrator Transparency Panel
Transparency Filters
Opacity
Masking & Clipping Options
Page Knock Out Groups

Digital Inking an Image
Import a Cartoon Image
Prepare Image /Add Transparency
Set up the first Soft Brush for Inking
Brush Pressure
Paint /Ink the Image
Overshooting Lines

Combining Digital Inking & Colour for Impact
Add Colour & Shade to Inked Image
Work with Layers to create Dynamic Inked Art
Vector Art /Clean Artwork for Posters, Teeshirts
Cleaning the Image, removing Overshooting
Expand
Alternative Paint using Live Paint

Create Artistic Type
Change Type to Outlines
Recolour Text Fill & Strokes
Cut Outline Type to apply Different Colours
Add Swirls & Art to Type Outlines

Exporting & Print Artwork
Export to Print Burea
Set up Artwork for Professional Print
Export Artwork to .PDF
Export Artwork to Digital
Check Artwork for Print Errors
.Prices for Adobe Illustrator Course for Digital Artists - the price is per course per day
The more persons on the course the more you benefit - All Prices INC VAT
Standard rate for one person is £300
inc VAT
Any additional persons £50.00
inc VAT
The above price includes 6 months post course support. We like to build rapport with our clients so any
Illustrator course
support would held direct with the
Illustrator trainer
who delivered the course/s. It also includes any and all course materials plus access to our online training tips, tricks & tutorials section.
Adobe Illustrator Course for Digital Artists Training Courses are held across Cheshire, Macclesfield, Manchester, Liverpool, Bolton, Birmingham, Shrewsbury, York, Ripon
Illustrator Course Options...