Photoshop Intermediate Course...
This Adobe Photoshop Intermediate Course is designed for those already using Photoshop who are looking to increase their skills with this software. It is a two day Photoshop Course intended to teach a variety of different retouching and editing techniques using advanced brushes, layer techniques, colour and tonal adjustments.
It is a hands on course which gives practical tuition working with the software to produce stunning organic graphics and more fluid and faster workflows. Our Photoshop Intermediate Training is great for those who have attended our Photoshop Intro Course or have practical experience in the workplace.
Online Photoshop Training - Virtual Classrooms...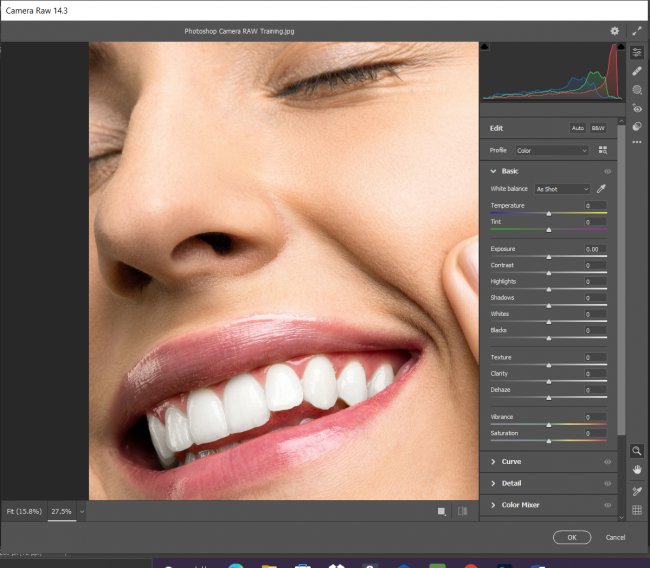 Our online Photoshop Training Courses are run as virtual online classrooms delivering identical content to the onsite ones. These are virtual interactive sessions where you have constant live contact with your trainer via screensharing and chat.
As with our onsite Photoshop Courses the training is delivered via screen demonstration, discussion and hands on practice.
We run all the Adobe Training Courses in the most popular video conferencing software including Zoom,Teams, WebEx and Google.
Because of the flexible nature of Online Photoshop Training as well as days this course is available on a 24 /7 basis including weekends.
Find out more about Online Photoshop Training Courses
Photoshop Intermediate Course Content
...
Learn to produce beautiful professional imagery on this intermediate course by learning to select precisely and accurately to correct colour and blemish in artwork. Work with, and understand Camera RAW to improve photography straight from the camera and learn how to tweak the adjustment controls for best effect.
The following Photoshop training content is not cast in stone - just get in touch to discuss how the content can be tailored to create your own bespoke Photoshop Course. This intermediate course takes you beyond Photoshop Basics and shows how to manipulate, designe and create professional beautiful images .
Photoshop Course Outline...
Photoshop Adjustment Layers
Photoshop Selection Techniques

None Destructive Workflow
Colour Correction - Tonal Correction
Info Panel
Colour Sampling - Fixed
Levels & Curves
Working with Black & White

Select & Mask
Select Subject, Background, Hair
Colour Range
Pen Tool
Channels
Saving Selections

Photoshop Smart Objects
Photoshop Brushes

Working with Smart Objects
Roundtripping with Smart Objects
Smart Objects - Converting Layers
Linking & Embedding Smart Objects
Smart Objects Advantges

Creating New Brush Tips
Understanding Photoshop Brushes
Designing Floral, Wet Edge, Grunge Brushes
Photoshop Brushes & Colour
Creating, Editing & Saving Brushes

Photoshop Patterns
Photoshop Layer Masking

Creating Patterns in Photoshop
Defining Patterns for Pattern Stamp
Applying Patterns Using FX
Creating Repeat Patterns
Using Offset Repeats
Adding Patterns to Path Fills

Understanding Masks
Working with Brushes
Editing Mask Properties
Mask Modes
Layer Masks & Creative Flow
Work with Clipping

Photoshop Retouching
Photoshop Video

Extending Canvas with Content Scale
Vanishing Point Filters
Content Aware
Perspective Retouch
Image Adjustments

Video & Frame Based Options
Photoshop Timeline
Layers & Timeline
Adding & Working with Keyframes
Position, Opacity & Style
Create & Edit Animations

Photoshop Selective Corrections
Photoshop Actions

Camera RAW
Adjustment Layer Masks
Adjustment Controls
Exposure & Colour
Saturation & Vibrance
Cropping & Straightening
Sharpening

Creating /Recording Actions
Editing Actions
Action Limitations
Batch Processing

Print & Web Output
Export for Print
Working with Bridge
Save for Web & Devices
Slicing Web Layouts
Export for Multi Page PDF's

Photoshop Libraries
Photoshop & Libraries
Library Panel
Adding /Deleting Assets
Sharing Libraries
Libraries across CC
Photoshop Intermediate Training Pricing..
Onsite Photoshop Training...
For first person on a group course booking £275.00 then £75.00 for each subsequent person on a group course booking
Prices all inclusive per day - depending on location travel & expenses may be incurred.
Online Photoshop Training...
For first person on a group course booking £260.00 then £60.00 for each subsequent person on a group course booking
Prices all inclusive per day
Photoshop Courses...
Photoshop Training...
These are flexible Photoshop Training Courses where content can be mixed and matched to suit your situation.
This intermediate course can be combined with the introduction course to create a workshop of chosen content.
Introduction to Photoshop Course
Photoshop Intermediate Course Content...
Photoshop Adjustment Layers Advanced
Photoshop Smart Objects
Photoshop Patterns
Photoshop Retouching
Photoshop Selective Corrections
Photoshop Selection Techniques
Photoshop Brushes
Photoshop Layer Masking
Photoshop Video
Photoshop Actions
Photoshop CC Libraries
Print & Web Output
Adobe Photoshop Intermediate Training Courses across the UK, North, Midlands including Nottingham, Sheffield, Leicester, Leeds, Birmingham, Derby, Milton Keynes, Manchester, Liverpool, Preston,